Hello and welcome at Brightway's Travel, Food & Experience !
Hello dear friends. Hope you are doing well and exploring the life and world the best. New York is one of the place that is in everyone's travel bucket list. Some may have already explored it and rest all definitely want to explore it. If you get a chance to explore that area then you should not miss this small city Hoboken with the big view of Manhattan skyline.
The best views of New York are in New Jersey, and Hoboken is a wonderful place that give you an unexpected experience. The NYC vista across the water to Manhattan are literally most stunning, the wind of Hudson River is great to make your day. This place is suburb of New jersey City of Hudson County. Indeed it is one of the best places to live and visit in New Jersey, so perfect for those who want to commute to NYC. It also has a great variety of bars and restaurants and plenty of night life.
Hudson river waterfront walkway :
Hoboken is a city on the Hudson River and certainly the best place in Hoboken is Hudson river waterfront walkway. It's really clean and great spot for photos. You can find so many good restaurants nearby as well. Undoubtedly it is better, safer, cleaner and peaceful that never miss a chance to give you diamond feel.
On a warm summer evening for me the park was so welcoming. Full of families having their time with the fabulous views. You can find grass, benches, stairs and tons of places to sit and enjoy the view. The surrounding was so lively, full of friendly people, kids on the playground, people eating takeout with the most astonishing view of NYC skyline nothing can beat that vibe.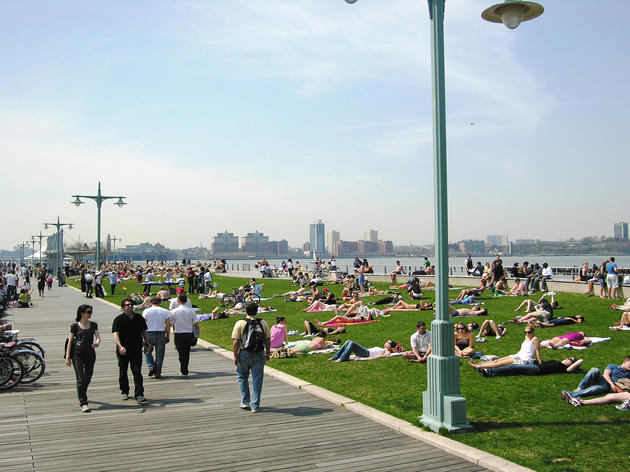 Just perfect – the walkway, the river-side, the downtown, Manhattan skyline. One of the best picturesque place that is perfect for a romantic date or even a family outing. There are picnic areas where adults can relax while kids are playing.
What a great place to go and visit! Enjoy walking the waterfront both at day and night become such a pleasant and memorable experience and the view of NYC skyline is so magnificent. If you are a tourist in NYC then I am sure that you would like to have the best picture of Manhattan and for that you need to take time to stop and enjoy the view at Hoboken NJ. You will find the waterfront walkway that has a panoramic picture of beautiful Manhattan.
– Kriti @Brightway
See you soon with a new Brightway post…. Thank you for your valuable time, Keep connecting. Have a wonderful day and take care. Till next time…
If you haven't already, checkout my other recent posts –
Check out Brightway Gallery – Way to Bright